Rivers, Bauman take top honors at Nastia Liukin Cup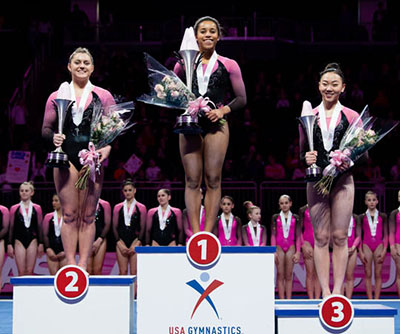 By Lynn Rutherford
A soulful helping of old-school Motown magic with a side order of Prince, Drake and Beyoncé won the day for Kai Rivers, who captured the senior title at the 2017 Nastia Liukin Cup held Friday at Newark, N.J.'s Prudential Center.
The 16-year-old from Franklin, Mich., trailed the leaders until the final rotation, when her fun and flashy floor routine ignited the crowd and earned 9.825 points to propel her from fifth place to first.
"I was really nervous for it," Rivers, who trains at Twistars USA under John and Kathryn Geddert, said. "I had to run through the corrections a thousand times in my head. The floor is really hard. I feel like I did pull it out, but I was really tired. It was not easy."
Rivers may have felt tired, but the energy level of her routine never flagged. She stuck her landings, including a double piked Arabian in her first tumbling pass, and showed off some easy, natural dance moves.
"I got a new routine this year, I made the music," she explained. "I can get into this routine more than ever. I just put my favorite songs in it, and some of my mom's favorite songs; my coach gave me that option. My mom picked the Prince song, and "Ain't No Mountain High Enough" was in it, too."
The other three routines were solid, but Rivers admitted she had work to do before her upcoming qualifying events.
"Beam has never really been my thing," Rivers said. "I try to just stay on, which is probably not how you're supposed to look at it."
"I probably work the hardest on the bars because that's kind of my gym's thing," she continued. "Handstands are really important; I try to stay tight. I love vault, I did a Yurchenko double and hit it as hard as I could. I definitely want to work on the landing."
Rachael Lukacs of North Stars, who won this event last year, was second with 38.525 points. The 17-year-old from nearby Hillsborough, N.J., shone in vault, where she earned a first-place score of 9.825 for her Yurchenko double full, as well as in floor.
"Going into vault, I just have to think, 'Let it happen, don't force anything,'" Lukacs said. "I came out with a good landing on my first (vault), a little off on my second but not too bad."
"My floor was one of my better routines," she added. "All my landings were pretty good."
When asked what she will focus on in the coming weeks, Lukacs didn't hesitate.
"Definitely bars, and I also have to improve my beam a little bit," she said. "I have to become more confident."
Legacy Elite's Andrea Li, winner of the junior event here last year, took third place thanks to earning the evening's highest scores in bars and beam. She finished with 38.425 points.
"I believe I hit all my handstands (on bars), and I felt tighter and more controlled today," Li, 15, said. "I'm really focused on training hard and making it to nationals."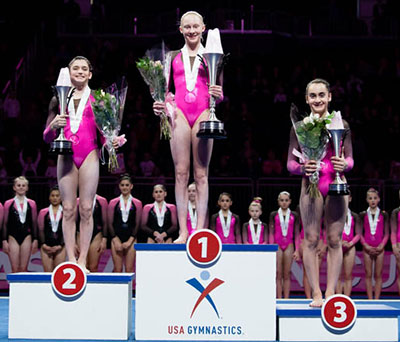 The junior event was a bit less of a nail biter. Carly Bauman of West Des Moines, Iowa, gained the highest scores in both vault and the uneven bars, and also put out solid beam and floor routines. She claimed the title with 38.425 points.
"Each event went really well, and it was fun competing on podium, which we don't usually do," Bauman, who trains 30 hours a week at Chow's Gym and Dance, said. "Beam was a little shaky; next time, I'll do better. It was a really different and fun meet."
The 15-year-old showed long, elegant lines in all of her routines, particularly a sparkling effort on bars that earned a 9.700.
"I try to hit every handstand I can, and I try to stick the dismount," she said.
Josh Overton, one of Bauman's coaches at Chow's, was pleased with all four of her routines.
"Carly had a great meet," Overton said. "There were a few bobbles on beam, which we will clean up. Overall, I'm very proud. She came in determined, with a goal in mind, hit each event and it paid off in the end."
Overton, like other coaches at Chow's, is a stickler for perfect form.
"Chow's does a lot of repetitions, a lot of focus on details, and then works on the big skills from there," he said. "This upcoming weekend we actually have state – Iowa is early – and then regionals. With Carly, we will work on her competition confidence."
Rose Casali, a 13-year-old from Weddington, N.C., who trains at Southeastern Gymnastics Center, was strong in all four events and especially impressive in beam, where she earned a 9.675. She ended with a 38.075 in the all-around for second place.
"I bounced around from first to second place the whole night, which I wasn't really expecting," she said. "I think my two best events were floor and beam, which are my best events in practice. We have a few weeks before state, and I want to go back to the gym and work on my confidence in all the skills."
Third place in juniors went to one of Casali's training partners at Southeastern, Lali Dekanoidze, who earned a 37.825.