Bryant, Vetter win 2018 Nastia Liukin Cup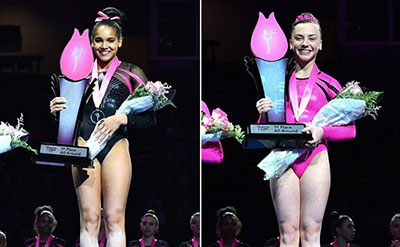 HOFFMAN ESTATES, Ill., March 2, 2018 – Haleigh Bryant of Huntersville, N.C./Everest Gymnastics, and Tory Vetter of Columbus, Ohio/Universal Gymnastics, won the senior and junior all-around titles, respectively, at the 2018 Nastia Liukin Cup at the Sears Centre Arena in Hoffman Estates, Ill. Competition continues tomorrow with the American Cup, the USA's most prestigious international invitational and part of the International Gymnastics Federation's World Cup all-around series, at 10:30 a.m. CT and the 2018 Elite Team Cup beginning at 5 p.m. CT
In the senior competition, Bryant took the title with a 38.700 total. She vaulted a big front-handspring, front pike half out to score a 9.875. On the uneven bars, Bryant performed a double front dismount for a 9.650. Bryant scored a 9.525 on the balance beam. She finished the competition on the floor exercise with a 9.650, where she opened with a double front and closed with a strong front double twist.
"It feels amazing to win the Cup, and I've had a blast," said Bryant, who is competing in her second Nastia Liukin Cup. "I've been training really hard for this, and my hard work finally paid off. Winning this has boosted my confidence for state, regionals and nationals."
In her third straight Nastia Liukin Cup, Andrea Li of Aurora, Ill./Legacy Elite Gymnastics, finished just behind Bryant with an all-around score of 38.625. Li began on the beam, where she executed a front aerial, a back handspring, layout stepout series and a double twist dismount for a 9.725. On floor, she tumbled a double pike and a two-and-a-half twist, claiming a 9.450. She performed a clean Yurchenko full on vault for a 9.750. In the final rotation, her difficult uneven bars routine included a Jaeger, Pak salto and a Shaposhnikova with a half turn. Li was in a three-way tie for the top uneven bars score of 9.700 with Raegan Walker of Temecula, Calif./SCEGA Gymnastics, who finished third in the all-around, and Kiya Johnson of Desoto, Texas/Texas Dreams (fifth in the all-around).
Walker rounded out the senior award podium with a 38.575. On vault, Walker performed a clean Yurchenko with a half twist (9.725). On bars, where she tied for first, dismounting with a clean double layout. Walker posted a 9.625 on beam. She tumbled a double pike, a front layout to front full and double tuck on floor, scoring a 9.525. Natalie Wojcik of Douglasville, Pa./Stallone Gymnastics, was fourth in the all-around at 38.550.
Vetter won the junior all-around crown with a 38.175. She vaulted a Yurchenko full for a 9.500. On uneven bars, she performed a giant full to Tkatchev and dismounted with a full-in to score a 9.350. She was clean through her cartwheel to back handspring series on beam, before dismounting with a double twist and earning a 9.750, the top beam score. On floor exercise, Vetter opened her floor routine with a double pike for a 9.575.
"I don't think I could have won without the support of my teammates and coaches," said Vetter. "This was my first time to compete at the Nastia Liukin Cup, and Nastia made it so fun for us. This meet was such a great experience."
Jacey Vore of Fishers, Ind./JPAC, landed in second place at 38.000. Vore earned a 9.725 on vault with a Yurchenko full. On bars, she performed an overshoot and Tkatchev and posted a 9.375. Vore's balance beam routine notched a 9.425. On floor, her tumbling passes were double pike, one-and-a-half to front layout and double tuck, tallying a 9.475 on floor. This is her second Nastia Liukin Cup appearance.
Faith Torrez-Foster of Kenosha, Wis./Legacy Elite Gymnastics, earned her highest score of the night on the vault with a 9.675. She performed a Jaeger and overshoot to earn a 9.075 on the uneven bars. On the beam, she executed a back handspring to two layout stepouts and double back dismount for a 9.600. Torrez-Foster earned a 9.600, the top score, on floor to finish third in the all-around with a 37.950.
Each of the 36 gymnasts in the field qualified through one of the 18 designated invitationals that comprised the Nastia Liukin Cup Series. One junior and one senior gymnast from each invitational advanced to the Nastia Liukin Cup.
The Nastia Liukin Cup participants received a a Nastia Liukin-designed leotard and a warm-up from GK Elite; two tickets to the Nastia Liukin Cup; and both met and had their photo taken with Liukin.
Named for 2008 Olympic all-around gold-medalist Nastia Liukin, the Nastia Liukin Cup was first held in 2010 in Worcester, Mass.
Past sites for the Nastia Liukin Cup: 2016-17, Newark, N.J.; 2015, Arlington, Texas; 2014, Greensboro, N.C.; 2013 and 2010, Worcester, Mass.; 2012, New York City; and 2011, Jacksonville, Fla.
Background information
Nastia Liukin. At the 2008 Olympic Games in Beijing, Liukin's total of five medals tied the U.S. gymnastics record for most medals in one Olympic Games. Liukin's Olympic medals are: gold – all-around; silver – team, balance beam and uneven bars; and bronze – floor exercise. Liukin was the third of five U.S. women to win the Olympic all-around crown. She also won nine World medals in her career. Liukin has graced many magazine covers and appeared on various shows, including "Gossip Girl," "Make It or Break It," and the feature film, "Stick It." Liukin was a contestant in the 2015 spring edition of "Dancing with the Stars" and was the grand marshal for the 2015 Indianapolis 500. She currently serves as a gymnastics analyst for NBC Sports. Liukin was coached by her father, Valeri, who has four Olympic medals from 1988 including two gold.
American Cup. 2017 U.S. all-around champion Ragan Smith of Lewisville, Texas/Texas Dreams, and Moldauer won the women's and men's titles at the 2017 American Cup at Prudential Center in Newark, N.J. The impressive list of former American Cup champions includes: Simone Biles, Bart Conner, Tim Daggett, Gabby Douglas, Paul Hamm, Jonathan Horton, Shawn Johnson, Danell Leyva, Nastia Liukin, Sam Mikulak, Shannon Miller, Carly Patterson, Mary Lou Retton, Kurt Thomas, Peter Vidmar, Jordyn Wieber and Kim Zmeskal-Burdette. Past sites for the American Cup include: New York, N.Y. (1976-80, 1982-84, 2004, 2008, 2012); Ft. Worth, Texas (1981, 1996-98); Indianapolis, Ind. (1985); Fairfax, Va. (1986-90, 2003); Orlando, Fla. (1991-94, 2000-02); Seattle, Wash. (1995); St. Petersburg, Fla. (1999); Uniondale, N.Y. (2005); Philadelphia, Pa. (2006); Jacksonville, Fla. (2007, 2011); Hoffman Estates, Ill. (2009); Worcester, Mass. (2010, 2013); Greensboro, N.C. (2014); Arlington, Texas (2015); and Newark, N.J. (2016-17).
Sears Centre Arena. Sears Centre Arena is an 11,000-seat multipurpose family entertainment, cultural, and sports arena located in Hoffman Estates' Prairie Stone Business Park. The Sears Centre Arena, which opened in 2006, is designed to accommodate a variety of events including concerts, family shows and sporting events. For more information regarding the Sears Centre Arena and upcoming events, please visit the arena's website at www.searscentre.com.
USA Gymnastics. Based in Indianapolis, USA Gymnastics is the national governing body for gymnastics in the United States. Its mission is to encourage participation and the pursuit of excellence in the sport. Its disciplines include men's and women's artistic gymnastics, rhythmic gymnastics, trampoline and tumbling, acrobatic gymnastics and Gymnastics for All (formerly known as group gymnastics). For more complete information, log on to www.usagym.org.