Doggette, Gladieux win first Nastia Liukin Cup titles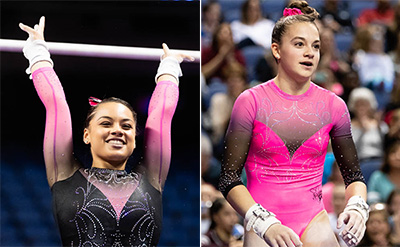 By Tim Nash
As you might expect when 36 skilled gymnasts compete for coveted titles, there was a fair share of competitive drama Friday night at the Nastia Liukin Cup in Greensboro.
When it was all said and done, Makarri Doggette won the senior title, and Gabrielle Gladieux took the junior trophy at the Coliseum Complex, which is just 20 minutes down the road to her house in Greensboro.
Doggette, the 18-year-old former Junior Olympic national champion, was competing in the Nastia Liukin Cup for her sixth and final time, never having come closer than fifth. Even when it appeared Doggette had the 2019 title locked up, Jillian Hoffman almost spoiled her fun.
As Doggette prepared for her balance beam routine, Hoffman' score for the floor routine appeared on the screen – 9.900.
"I'm going to be honest, my jaw dropped," Doggette said. "And that was right before my beam routine. But I can't control the results, and at the end of the day, I just wanted to have fun. I can only control how I do and how I feel."
Doggette edged Hoffman 38.975 to 38.875.
Heading into the event, Doggette was balancing her desire to win it in her last attempt and enjoying the moment.
"Honestly, winning was not my only goal coming in," she said. "I just wanted to have the best time I could. It's the last time for me because I'm a senior. There is only so much you can do and there are so many good girls now. You just push yourself as hard as you can, go 100 percent and whatever happens, happens."
As it turns out, Doggette was able to do both.
Gladieux had an experience unlike any other competitor in the Nastia Liukin Cup. This morning, she woke up in her own bed, went to brunch with all the other athletes, went back home and kicked back until making the 20-minute trek to the Coliseum.
And then she won the thing.
"I didn't come here expecting to win, but my coach kept telling me you do you and everything will just fall into place," said Gladieux, a 14-year-old high school freshman. "I was just worried about sticking four for four and having fun."
With scores of 9.725 in the balance beam, 9.525 on her floor exercise, and a 9.7 on the vault, Gladieux knew she was among the leaders heading into the uneven bars.
"They are putting the scores up on the thing (scoreboard), and you can't really help but look," she said. "I knew I was pretty close. But after vault, I decided I wasn't going to look anymore and just live in the moment."
She also knew that Madison Ulrich was also among the leaders. Ulrich was scheduled to perform her bars routine two athletes after Gladieux.
Gladieux got a 9.475 on her bars routine, her lowest score of the night, but it was still enough to keep her lead over Ulrich.
"Closing it out on the bars, I was definitely feeling the pressure," she said. "I didn't worry about the score. I just wanted to hit my routine."
Gladieux's final tally was 38.425 to Ulrich's 38.150.