The 2021 Nastia Liukin Cup Series concluded this weekend finalizing the 36-gymnast field for the February 26 event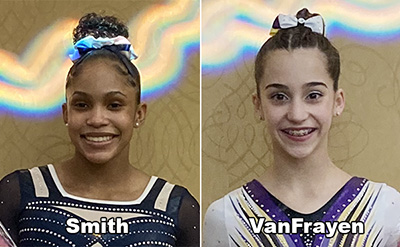 INDIANAPOLIS, February 21, 2021 – The final Nastia Liukin Cup Series event took place over the weekend, setting the 36-gymnast field for the 12th annual iteration of the event. The 2021 Nastia Liukin Cup will be held at the Indiana Convention Center in Indianapolis and will air live on Friday, February 26 at 2:30 p.m. ET on NBCSN.
This year's Cup Series consisted of 12 participating invitationals with 18 junior and 18 senior USA Gymnastics Women's Development Program Level 10 athletes earning the opportunity to compete for the 2021 Nastia Liukin Cup title in their respective divisions. Seventeen states are represented in the field, which includes 6 gymnasts who have participated in past Nastia Liukin Cups.
Amari Celestine, Wildomar, Calif., SCEGA, 2018
Mackenzie Estep, Auburn, Wash., Ascend. 2019
CJ Keuneke, Denver, Colo., Active Athletics, 2019
Amber Lowe, Kennesaw, Ga., Atlanta North Stars, 2019
Nikki Smith, West Bloomfield, Mich., Euro Stars, 2020
Tory Vetter, Columbus, Ohio, Universal Gymnast, 2018
The Nastia Liukin Cup showcases up-and-coming gymnasts and was launched in 2010 by 2008 Olympic all-around champion and 14-time Olympic and World medalist Nastia Liukin. Gymnasts who compete in the Nastia Liukin Cup will receive a Nastia Liukin-designed leotard and warm-up from GK Elite and will have the opportunity to meet Liukin onsite at the event.
Last weekend's qualifiers are listed below.
Jaycie Phelps Midwest Showdown, French Lick, Ind.: Nikki Smith, West Bloomfield, Mich./Euro Stars, senior, and Gabby VanFrayen, Lewis Center, Ohio/Gym X-treme, junior
The full 2021 Nastia Liukin Cup field is listed below alphabetically by state. Due to the ongoing coronavirus pandemic, the event will not be open for public attendance.
Senior:
Arizona:
Alex Theodorou, Phoenix, Ariz., Desert Lights, senior
California:
Amari Celestine, Wildomar, Calif., SCEGA, senior
Chloe LaCoursiere, San Diego, Calif., Coastal Gymnastics, senior
Madelyn Williams, Vacaville, Calif., Dream Xtreme Gymnastics, senior
Florida:
Lilly Hudson, Fleming Island, Fla., Florida Elite, senior
Moorea Linker, Odessa, Fla., LaFleur's, senior
Georgia:
Amber Lowe, Kennesaw, Ga., Atlanta North Stars, senior
Michigan:
Nikki Smith, West Bloomfield, Mich., Euro Stars, senior
Nebraska:
Lexi Zeiss, Omaha, Neb., Omaha Gymnastics Academy, senior
New Jersey:
Hannah Loyim, Mountain Lakes, N.J., North Stars Gymnastics Academy, senior
Jocelyn Moore, Hillborough, N.J., Gymland/Arena Gymnastics, senior
New York:
Miranda Smith, New Hartford, N.Y., Valley Gymnastics Training Center, senior
Ohio:
Tory Vetter, Columbus, Ohio, Universal Gymnasts, senior
Texas:
Sloane Blakely, Frisco, Texas, WOGA, senior
Kylie Coen, Fort Worth, Texas, Empire Gymnastics Academy, senior
Morgan Price, Coppell, Texas, Texas Dreams, senior
Leah Smith, Spring, Texas, World Champions Centre, senior
Bryce Wilson, Pearland, Texas, Pearland Elite, senior
Junior:

Colorado:
CJ Keuneke, Denver, Colo., Active Athletics, junior
Florida:
Nina Ballou, Boca Raton, Fla., American Twisters, junior
Danielle Ferris, St. Augustine, Fla., Florida Elite, junior
Georgia:
Madelyn Dorbin, Lilburn, Ga., Georgia Elite, junior
Indiana:
Lauren Harkins, Fishers, Ind., Jaycie Phelps Athletic Center, junior
Bailey Stroud, New Palestine, Ind., Jaycie Phelps Athletic Center, junior
Maryland:
Azaraya Ra-Akbar, Columbia, Md., World Class Gymnastics, junior
Ruth Whaley, Annapolis, Md., Win-Win Gymnastics, junior
Minnesota:
Olivia Orengo, Rogers, Minn., Twin City Twisters, junior
North Carolina:
Abby Bednar, Waxhaw, N.C., Perfect Balance, junior
Ohio:
Gabby VanFrayen, Lewis Center, Ohio, Gym X-treme, junior
Texas:
Baylie Belman, Allen, Texas, Metroplex, junior
Kamila Pawlak, Melissa, Texas, Metroplex, junior
Piper Slocum, The Woodlands, Texas, Discover Gymnastics, junior
Alicia Zhou, San Antonio, Texas, Love Gymnastics, junior
Utah:
Lillian Jennejohn, Provo, Utah, All American, junior
Avery Neff, South Jordan, Utah, Olympus Gymnastics, junior
Washington:
Mackenzie Estep, Auburn, Wash., Ascend, junior
Background information
Nastia Liukin. At the 2008 Olympic Games in Beijing, Liukin's total of five medals tied the U.S. gymnastics record for most medals in one Olympic Games. Liukin's Olympic medals are: gold – all-around; silver – team, balance beam and uneven bars; and bronze – floor exercise. Liukin was the third of five U.S. women to win the Olympic all-around crown. She also won nine World medals in her career. In 2018, she was inducted into the International Gymnastics Hall of Fame, and in 2019, she was named to the U.S. Olympic and Paralympic Hall of Fame. Liukin has graced many magazine covers and appeared on various shows, including "Gossip Girl," "Make It or Break It," and the feature film, "Stick It." Liukin was a contestant in the 2015 spring edition of "Dancing with the Stars" and was the grand marshal for the 2015 Indianapolis 500. She currently serves as a gymnastics analyst for NBC Sports and is a founder of Grander, a global community for the next generation of female athletes that provides access to the people who inspire, resources to help achieve dreams, and communities of like-minded people with similar ambitions. Liukin was coached by her father, Valeri, who has four Olympic medals from 1988 including two gold.
Indiana Sports Corp. Founded in 1979 as the nation's first sports commission, Indiana Sports Corp is a not-for-profit organization focused on bringing premier sporting events to Indiana to drive economic vitality, facilitate a vibrant community with civic pride and garner positive media attention. Because of this, Indiana Sports Corp is able to provide positive, sports-related opportunities for youth in the community. For more information, please visit IndianaSportsCorp.org.
USA Gymnastics. Based in Indianapolis, USA Gymnastics is the national governing body for gymnastics in the United States, encompassing seven disciplines: women's gymnastics, men's gymnastics, trampoline and tumbling, rhythmic gymnastics, acrobatic gymnastics, gymnastics for all (a.k.a. group gymnastics) and, most recently, parkour. USA Gymnastics sets the rules and policies that govern the sport of gymnastics, including selecting and training the U.S. Gymnastics Teams for the Olympics and World Championships; promoting and developing gymnastics on the grassroots and national levels, as well as a safe, empowered and positive training environment; and serving as a resource and educational center for the more than 200,000 members, clubs, fans and gymnasts throughout the United States. The organization is deeply committed to creating a culture that encourages and supports its athletes and focuses on its highest priority: the safety and well-being of athletes and our community.