Another eight gymnasts punch tickets to 2022 Nastia Liukin Cup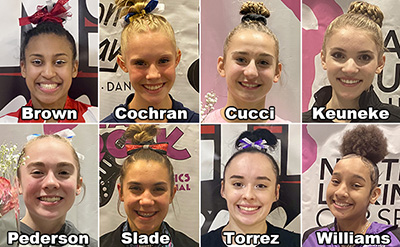 Note: Allison Cucci will not compete due to injury. She will be replaced by Gabby Hardie
INDIANAPOLIS, Ind., February 8, 2022 – Only six vacancies remain in the 2022 Nastia Liukin Cup field after eight gymnasts secured their spots this weekend. In total, 40 USA Gymnastics Women's Development Program athletes – 20 juniors and 20 seniors – will compete Friday, February 25 at Ford Center at the Star in Frisco, Texas.
Nastia Liukin Cup participants are determined based on performances in a series of invitationals held in the weeks preceding the competition, and qualifications will continue next weekend with the WOGA Classic in Frisco. Last week's qualifiers are listed below alphabetically by competition. Click the event name for junior and senior results.
This year's Nastia Liukin Cup is being held in conjunction with the 2022 Winter Cup and Elite Team Cup and will air live on the Olympic Channel. Tickets for all Winter Cup sessions, including the Nastia Liukin Cup, are on sale now.