Nastia Liukin Cup Series wraps up with final seven Nastia Liukin Cup qualifiers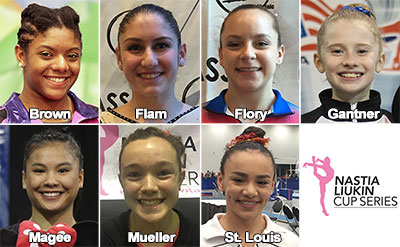 INDIANAPOLIS, Feb. 20, 2017 – The 2017 Nastia Liukin Cup Series concluded this past weekend with the final seven athletes advancing to the 2017 Nastia Liukin Cup, scheduled for March 3 at Prudential Center in Newark, N.J. The field of junior and senior level Junior Olympic gymnasts was selected through the Nastia Liukin Cup Series, which featured 26 of the country's top gymnastics invitationals held throughout the United States.
The seven gymnasts determined last weekend are listed below, by the invitational where they qualified.
Charity Choice Invitational, Tacoma, Wash. Lynnzee Brown of Raytown, Mo./GAGE, scored 37.975 in the senior competition to earn her trip to the Nastia Liukin Cup

Excalibur Cup, Virginia Beach, Va. Nicola St Louis of Annandale, N.J./North Stars Gymnastics Academy, junior, qualified to her first Nastia Liukin Cup with her score of 37.200.

Magical Classic Gymnastics Meet, Orlando, Fla. Abigail Mueller of Rochester, Minn./Classic Gymnastics, was the event's highest scoring junior and clinched the junior spot with her score of 37.775.

Presidential Classic, Orlando, Fla. Elizabeth Gantner of Indianapolis, Ind./ Jaycie Phelps Athletic Center, posted a 38.175 to win the junior competition and Mikayla Magee of League City, Texas/Pearland Elite, earned the senior slot to the Nastia Cup with a 38.775.

WOGA Classic, Frisco, Texas. Colbi Flory of Rockwall, Texas/Texas Dreams, and Rachael Flam of Houston/Stars Gymnastics, will compete in the junior and senior competition, respectively. Flory took top honors in the junior division by tallying 38.475 points. Flam, who shared the junior title at the 2014 Nastia Liukin Cup, scored 39.275 in the senior competition to earn her third trip to the Cup.
2017 marks the second straight year Newark's Prudential Center is hosting both the Nastia Liukin Cup and on the following day, the 2017 AT&T American Cup, an International Gymnastics Federation World Cup event that features some of the world's biggest names in gymnastics.
Gymnasts who compete in the Nastia Liukin Cup will receive a Nastia Liukin-designed leotard and a warm-up from GK Elite; two tickets to the Nastia Liukin Cup; and the opportunity to meet Liukin and participate in a team photo.
Tickets for the Nastia Liukin Cup may be purchased through ticketmaster.com, by phone at 800-745-3000, at all Ticketmaster outlets and at Prudential Center's box office. For more information, go to nastialiukincup.com.
A portion of the proceeds from the Nastia Liukin Cup benefits the Nastia Liukin Fund, a charitable fund in partnership with the National Gymnastics Foundation (www.usagym.org/foundation).
Past sites for the Nastia Liukin Cup are: 2016, Newark, N.J.; 2015, Arlington, Texas; 2014, Greensboro, N.C.; 2013 and 2010, Worcester, Mass.; 2012, New York City; and 2011, Jacksonville, Fla.
Background information
Nastia Liukin. At the 2008 Olympic Games in Beijing, Liukin's total of five medals tied the U.S. gymnastics record for most medals in one Olympic Games, held by Mary Lou Retton (1984) and Shannon Miller (1992). Liukin's Olympic medals are: gold – all-around; silver – team, balance beam and uneven bars; and bronze – floor exercise. Liukin was the third of five U.S. women to win the Olympic all-around crown. She also won nine World medals in her career. Liukin has graced many magazine covers and appeared on various shows, including "Gossip Girl," "Make It or Break It," and the feature film, "Stick It." Liukin was a contestant in the 2015 spring edition of "Dancing with the Stars" and was the grand marshal for the 2015 Indianapolis 500. She currently serves as a gymnastics analyst for NBC Sports. Liukin was coached by her father, Valeri, who has four Olympic medals from 1988 including two gold.
AT&T American Cup. The 2017 AT&T American Cup, a FIG World Cup event, is one of the most prestigious international invitational events and features an all-around format. The list of former champions comprises some of the sport's best-known names, including Simone Biles, Jordyn Wieber, Nastia Liukin, Jonathan Horton, Bart Conner, Paul Hamm, Shawn Johnson, Shannon Miller, Carly Patterson, Mary Lou Retton and Peter Vidmar.
Prudential Center. Prudential Center is a world-class sports and entertainment venue located in downtown Newark, New Jersey. Opened in October 2007, the state-of-the-art arena is the home of the National Hockey League's (NHL) three-time Stanley Cup Champion New Jersey Devils, Seton Hall University's NCAA Division I Men's Basketball program, and more than 200 concerts, family shows and special events each year. Ranked in the Top 10 nationally by Pollstar, Billboard and Venue's Today, Prudential Center is recognized as one of the premier venues in the United States, and welcomes more than two million guests annually. For more information about Prudential Center, visit PruCenter.com and Facebook, and follow @PruCenter on Twitter.
USA Gymnastics. Based in Indianapolis, USA Gymnastics is the national governing body for gymnastics in the United States. Its mission is to encourage participation and the pursuit of excellence in the sport. Its disciplines include men's and women's artistic gymnastics, rhythmic gymnastics, trampoline and tumbling, acrobatic gymnastics and Gymnastics for All (formerly known as group gymnastics). For more complete information, log on to www.usagym.org.