Liukin delivers words of wisdom to the next generation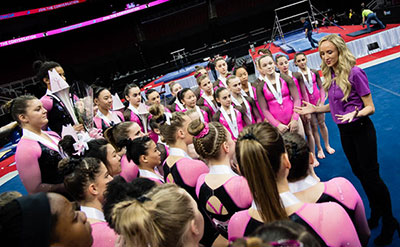 By Lynn Rutherford
Watching 36 gymnasts warming up to compete at her namesake event at Prudential Arena in Newark, N.J. on Friday night, Nastia Liukin nearly teared up.
"Never, in a million years, did I think almost 10 years out from my Olympics I'd be sitting here, looking at the screen and seeing my silhouette and name everywhere," she said.
Fresh off winning all-around gold at the 2008 Games, Liukin approached USA Gymnastics with an idea.
"I said, 'I want to do something to give back to the gymnastics community, to everybody that has given me so much,'" Liukin remembered.
With a lot of work and organization, an event giving Level 10 female gymnasts entrée to the national stage was born. The first competition, then-christened the Nastia Liukin Supergirl Cup, took place in Worcester, Mass., in 2010 and had a real supergirl, Gabby Douglas, finish fourth. Two years later, she was the Olympic all-around champion. Future U.S. national team members including McKayla Skinner, Ashton Locklear, Lexie Pressman, Amelia Hundley and Nia Dennis also competed at the Cup.
Liukin was a friendly presence on the floor this week, signing autographs and pausing for photos. On Friday morning, she hosted a competitors' brunch, where she delivered some bittersweet words of wisdom.
"The very last performance of my career was on the balance beam at the 2012 Olympic Trials, after I fell on bars. I knew I wasn't going to make the Olympic team," she said. "So for the first time in my life, I just looked around the arena and I took it all in. And I never just enjoyed a performance the way I did there, because I really felt the moment.
"And that's what I told all of them today: 'You've already qualified, you are the best gymnasts in the entire country, you deserve to be here. So tonight, just enjoy this moment.'"
Following are excerpts from a conversation with Liukin at Prudential Center on Friday evening.
Every girl competing here is wearing a Nastia Liukin leotard.
I design them each year. I work with GK (Elite) and Swarovski, we have such a great partnership. I wanted everybody to be in the same color, because when we compete as the national team, we're all in the same leotard. But it was too hard to do that for almost 40 girls for TV purposes, so they asked me to mix it up. I did a black body with pink sleeves for seniors, and reversed it for the juniors.
I hear you're focusing on other ways to help the next generation of gymnasts.
I've been working on a project with my fiancé (Venture Up founder Matt Lombardi) called Grander, an inspirational platform and Mobile App on your phone. It's exclusive to the gymnastics community, and it's all about mentoring and inspiring the next generation of athletes. Some of my (Olympic) teammates are on it, too.
Throughout my career, I had such great people to look up to. Carly Patterson trained on the same beam next to me; she won the Olympic all-around, and four years later, I was able to do that. Being around her every day inspired me. We hope to do that. There is one-on-one engagement, we are able to talk to the athletes, they can ask questions and we share content. (For more information, check out grandersports.com)
The 2017 AT&T American Cup is being broadcast on NBC, and you're commentating. You were also an analyst for the Rio Games. How is that going?
I like it a lot. It keeps me involved in the sport I love. I'm still learning. It took me almost 20 years to become the greatest gymnast at the Beijing Olympics. I know that I'm not an expert quite yet, but I'm learning. With every competition I do, I hope to be better. I have great mentors in that industry, too, so it's been really fun for me.
What's it like watching your dad, Valeri, stepping up into the national team coordinator role?
I am trying to separate from it a little bit. I'm here to work and commentate, and he's out on the floor. When I was training and he was in the gym he was just my coach; when we went home, he was my dad. We separated (the roles) and I'm trying to do that here.
But I'm so proud. He's wanted to do this for a while. I could go on and on. Obviously they are big shoes to fill, but he is so passionate about it. You can just see that at every training camp. I'm excited for him.
Do you like the direction gymnastics is taking?
The level of difficulty has risen so much since the 2008 Games, it's a little bit crazy to me. I definitely want them to bring back a little of that artistry and that grace. I think we're starting to see that, mixed in with the difficulty. At this last Olympics, they were all so strong and so powerful, and the level of difficulty was just insane, but their floor routines were beautiful. Look at Laurie Hernandez, what her coach Maggie (Haney) was able to do. It was tremendous.
Simone Biles is competing on Season 24's Dancing with the Stars, succeeding Laurie Hernandez, who won Season 23. You're a DWTS veteran. What advice did you give them?
To just enjoy the moment. When we're on the competition floor, we're so focused and not looking around too much. But I think inside each of us there is a performer, and that's what I loved most about DWTS: You can go out there and just perform. Yes, there are scores, but it's nothing like the Olympics.
I learned a lot about myself. You can portray different characters; it just opens your mind to different things and different kinds of creativity. More than that, it's just fun.