Rivers, Bauman win 2017 Nastia Liukin Cup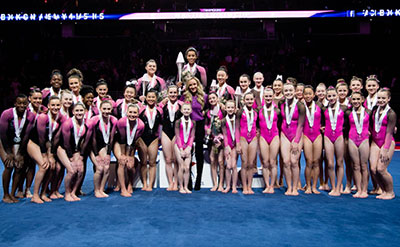 NEWARK, N.J., March 3, 2017 – Kai Rivers of Franklin, Mich./Twistars, and Carly Bauman of West Des Moines, Iowa/Chow's Gymnastics, won the senior and junior all-around titles, respectively, at the 2017 Nastia Liukin Cup at Prudential Center in Newark, N.J. Competition continues tomorrow with the AT&T American Cup, the USA's most prestigious international invitational and part of the International Gymnastics Federation's World Cup all-around series, at 11:30 a.m. ET and the 2017 Elite Team Cup at 6 p.m. ET.
Senior all-around medalists: 1. Kai Rivers, Franklin, Mich./Twistars, USA, 38.650; 2. Rachael Lukacs, Hillsborough, N.J./North Stars Gym Academy, 38.525; 3. Andrea Li, Aurora, Ill./Legacy Elite, 38.425.
Junior all-around medalists: 1. Carly Bauman of West Des Moines, Iowa/Chow's Gymnastics, 38.425; 2. Rose Casali of Weddington, N.C./Southeastern, 38.075; 3. Lali Dekanoidze of Charlotte, N.C./Southeastern, 37.825.
Rivers' event scores: 38.650, all-around; 9.750, vault; 9.525, bars; 9.550, beam; 9.825, floor (1st).
Bauman's event scores: 38.425, all-around; 9.525, vault (1st); 9.700, bars (1st); 9.575, beam; 9.625, floor.
Rivers quotes:

On having a chance to win this meet: I said to Nastia [Liukin] earlier that the competition was insane. The amount of talent that's in this [meet] is crazy, so I tried not to think of the scores. I honestly did not think I was going to win today because everyone was so amazing."
On her energy at this meet: "I got a new [floor] routine this year and I picked the music so I feel like I can get into this routine more than ever. I put all of my favorite songs and some of my Mom's favorite songs in it."
On heading into state and regional qualifiers: "I definitely need to work on my vault landing to try and get a stick, and on bars I need to work on my handstands."

Bauman quotes:

On tonight's competition: "It was really nice competing against all the different gymnasts. It was really fun."
On competing at tonight's meet: "It's really fun and it's really difficult. I just tried to take it one skill at a time and one event at a time. I didn't want to rush it too much."
On competing on podium: "Podium is a little bit bouncier, so that was fun, and it was nice meeting Nastia."

Named for 2008 Olympic all-around gold-medalist Nastia Liukin, the Nastia Liukin Cup was first held in 2010 in Worcester, Mass., and a portion of the proceeds from the Nastia Liukin Cup benefits the Nastia Liukin Fund, a charitable fund in partnership with the National Gymnastics Foundation (www.usagym.org/foundation).
Past sites for the Nastia Liukin Cup are: 2016, Newark; 2015, Arlington, Texas; 2014, Greensboro, N.C.; 2013 and 2010, Worcester, Mass.; 2012, New York City; and 2011, Jacksonville, Fla.
Senior All-Around Results
1. Kai Rivers, Franklin, Mich., 38.650
2. Rachael Lukacs, Hillsborough, N.J., 38.525
3. Andrea Li, Aurora, Ill., 38.425
4. Natalie Wojcik, Douglasville, Pa., 38.400
5. Abby Heiskell, Waxhaw, N.C., 38.375
6. Abigail Brenner, Allen, Texas, 38.150
7. Rylie Mundell, Parker, Colo., 37.950
8. Lynnzee Brown, Raytown, Mo., 37.925
9. Anastasia Webb, Morton Grove, Ill., 37.900
10. Rachael Flam, Houston, Texas, 37.875
11. Cassie Stevens, Phoenix, Ariz., 37.825
12. Nevaeh DeSouza, Fairfield, Calif., 37.800
13. Gabryel Wilson, Ypsilanti, Mich., 37.775
14. Cristal Isa, Henderson, Nev., 37.225
15. Amoree Lockhart, Fort Worth, Texas, 36.750
16. Mikayla Magee, League City, Texas, 36.575
17. Jaedyn Rucker, Mesa, Ariz., 26.150
Junior All-Around Results
1. Carly Bauman, West Des Moines, Iowa, 38.425
2. Rose Casali, Weddington, N.C., 38.075
3. Lali Dekanoidze, Charlotte, N.C., 37.825
4. Gabrielle Gallentine, Iron Station, N.C., 37.600
5. Abigail Mueller, Rochester, Minn., 37.575
6. Sophia Groth, West Des Moines, Iowa, 37.550
7. Lillian Lippeatt, Mason, Ohio, 37.425
8. Colbi Flory, Rockwall, Texas, 37.375
9. Emma Pritchard, Ashville, Ohio, 37.250
10. Nicole Riccardi, East Northport, N.Y., 37.125
11. Quinn Smith, Phoenix, Ariz., 36.875
12. Jacey Vore, Fishers, Ind., 36.450
13. Gillian Rutz, S. Lebanon, Ohio, 36.350
13. Nicola St Louis, Annandale, N.J., 36.350
15. Mia Falcone, Eustis, Fla., 35.925
16. Elizabeth Gantner, Indianapolis, Ind., 35.325
17. Kennedy Quay, San Diego, Calif., 18.025
17. Teagan Torgerud, Atlantic Beach, Fla., 18.025
Background information
Nastia Liukin. At the 2008 Olympic Games in Beijing, Liukin's total of five medals tied the U.S. gymnastics record for most medals in one Olympic Games, held by Mary Lou Retton (1984) and Shannon Miller (1992). Liukin's Olympic medals are: gold – all-around; silver – team, balance beam and uneven bars; and bronze – floor exercise. Liukin was the third of four U.S. women to win the Olympic all-around crown. She also won nine World medals in her career. Liukin has graced many magazine covers and appeared on various shows, including "Gossip Girl," "Make It or Break It," and the feature film, "Stick It." Liukin is now attending New York University in New York City, studying sports management. She also has founded the Shine Agency and is traveling the country as part of the Shine Tour, where she shares her experiences – the highs and disappointments – with young women to encourage girls to shine in their own lives by setting goals, dreaming big and having confidence in themselves. Liukin was a contestant in the 2015 spring edition of "Dancing with the Stars" and was the grand marshal for the 2015 Indianapolis 500. Liukin currently serves as a gymnastics analyst for NBC Sports and was a special contributor during NBC's coverage of the 2014 Olympic Winter Games in Sochi, Russia. In 2012, she was a member of the creative team and a cast member for the Kellogg's Tour of Olympic Champions, a national, 40-city tour that followed the 2012 Olympic Games. Liukin was coached by her father, Valeri, who has four Olympic medals from 1988 including two gold.

AT&T American Cup. The 2017 AT&T American Cup, a FIG World Cup event, is one of the most prestigious international invitational events and features an all-around format. The list of former champions comprises some of the sport's best-known names, including Jordyn Wieber, Nastia Liukin, Jonathan Horton, Bart Conner, Paul Hamm, Shawn Johnson, Shannon Miller, Carly Patterson, Mary Lou Retton and Peter Vidmar. For more information, go to attamericancup.com.

Prudential Center. Prudential Center is a world-class sports and entertainment venue located in downtown Newark, New Jersey. Opened in October 2007, the state-of-the-art arena is the home of the National Hockey League's (NHL) three-time Stanley Cup Champion New Jersey Devils, Seton Hall University's NCAA Division I Men's Basketball program, and more than 200 concerts, family shows and special events each year. Ranked in the Top 10 nationally by Pollstar, Billboard and Venue's Today, Prudential Center is recognized as one of the premier venues in the United States, and welcomes more than two million guests annually. For more information about Prudential Center, visit PruCenter.com and Facebook, and follow @PruCenter on Twitter.

USA Gymnastics. Based in Indianapolis, USA Gymnastics is the national governing body for gymnastics in the United States. Its mission is to encourage participation and the pursuit of excellence in the sport. Its disciplines include men's and women's artistic gymnastics, rhythmic gymnastics, trampoline and tumbling, acrobatic gymnastics and group gymnastics. For more complete information, log on to www.usagym.org.