All-session tickets go on sale Oct. 6 for gymnastics' Triple Cup weekend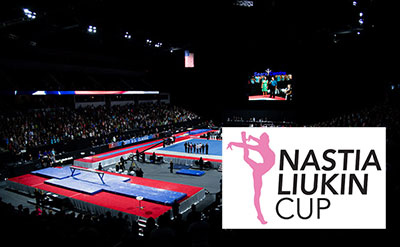 INDIANAPOLIS, Oct. 4, 2017 — All-session tickets for the Triple Cup weekend, March 2-3, 2018, go on sale Oct. 6 at 10 a.m. CT. The 2018 AT&T American Cup, the USA's most prestigious international invitational and part of the International Gymnastics Federation's all-around World Cup series, is the weekend's premier event at the Sears Centre Arena in Hoffman Estates, Ill.
The AT&T American Cup showcases many of the world's best gymnasts, in a one-day, all-around competition on March 3 at 10:30 a.m. CT. On March 2, the Nastia Liukin Cup features some of the USA's top Junior Olympic female gymnasts and kicks off the big weekend at 7 p.m. CT. The Elite Team Cup, a team event with many of the USA's top junior men, wraps up the weekend's events on Saturday evening at 5 p.m. CT.
All-session ticket packages range in price from $89-$149, plus applicable fees, and include tickets to all three of the weekend's events. Ticket prices vary according to competition session and seat location. To purchase tickets, visit www.SearsCentre.com, call 1-888-SEARS-TIX, or visit the Wintrust Box Office at the Sears Centre Arena. Group tickets may be purchased by calling 773-327-3778. Discounted tickets are available through gymnastics clubs participating in the gym club ticket program. For more information, go to attamericancup.com.
In addition to the upcoming events in 2018, the Sears Centre has played host to the U.S. Classic for four years (2013-15, 2017) and the American Cup in 2009.
Background information
AT&T American Cup. 2016 Olympic replacement athlete Ragan Smith of Lewisville, Texas/Texas Dreams, and Yul Moldauer of Arvada, Colo./University of Oklahoma, a NCAA all-around champion, won the women's and men's titles at the 2017 AT&T American Cup at Prudential Center in Newark, N.J. The impressive list of former American Cup champions includes: Simone Biles, Bart Conner, Tim Daggett, Gabby Douglas, Paul Hamm, Jonathan Horton, Shawn Johnson, Danell Leyva, Nastia Liukin, Sam Mikulak, Shannon Miller, Carly Patterson, Mary Lou Retton, Kurt Thomas, Peter Vidmar, Jordyn Wieber and Kim Zmeskal-Burdette. Past sites for the American Cup include: New York, N.Y. (1976-80, 1982-84, 2004, 2008, 2012); Ft. Worth, Texas (1981, 1996-98); Indianapolis, Ind. (1985); Fairfax, Va. (1986-90, 2003); Orlando, Fla. (1991-94, 2000-02); Seattle, Wash. (1995); St. Petersburg, Fla. (1999); Uniondale, N.Y. (2005); Philadelphia, Pa. (2006); Jacksonville, Fla. (2007, 2011); Hoffman Estates, Ill. (2009); Worcester, Mass. (2010, 2013); Greensboro, N.C. (2014); Arlington, Texas (2015); and Newark, N.J. (2016-17).
Nastia Liukin Cup. The 36 participants in the Nastia Liukin Cup are selected through the Nastia Liukin Cup Series, which features many of the country's top gymnastics invitationals held throughout the United States. A total of 18 junior and 18 senior gymnasts advance to the Nastia Liukin Cup. Senior athletes must be 16 years of age or older, and junior athletes must be 15 or younger. Gymnasts who compete in the Nastia Liukin Cup receive a Nastia Liukin-designed leotard and a warm-up from GK Elite; two tickets to the Nastia Liukin Cup; and the opportunity to meet Liukin and participate in a team photo. The Nastia Liukin Cup is named after Nastia Liukin, the 2008 Olympic all-around champion who has five Olympic and nine World medals to her credit. The annual event is held the night before the AT&T American Cup and made its debut in 2010. Past sites include 2016 and 2017, Newark, N.J.; 2015, Arlington, Texas; 2014, Greensboro, N.C.; 2013 and 2010, Worcester, Mass.; 2012, New York City; and 2011, Jacksonville, Fla.
Elite Team Cup. In its third year, the Elite Team Cup features nine men's Regional Teams. The country's best junior elite male gymnasts compete, representing their respective regions. The junior elite gymnasts must be between 13-18 years of age as of Sept. 1, 2017, and will be selected from the Regional Elite Team Program. The Junior Elite gymnasts will follow the USA Gymnastics/International Gymnastics Federation competition rules. The event was first held in 2016 in Newark, which also hosted the 2017 edition.
Sears Centre Arena. Sears Centre Arena is an 11,000-seat multipurpose family entertainment, cultural, and sports arena located in Hoffman Estates' Prairie Stone Business Park. The Sears Centre Arena, which opened in 2006, is designed to accommodate a variety of events including concerts, family shows and sporting events. For more information regarding the Sears Centre Arena and upcoming events, please visit the arena's website at www.searscentre.com.
USA Gymnastics. Based in Indianapolis, USA Gymnastics is the national governing body for gymnastics in the United States. Its mission is to encourage participation and the pursuit of excellence in the sport. Its disciplines include men's and women's artistic gymnastics, rhythmic gymnastics, trampoline and tumbling, acrobatic gymnastics and Gymnastics for All (formerly known as group gymnastics). For more complete information, log on to www.usagym.org.