36 gymnast field is set for 2019 Nastia Liukin Cup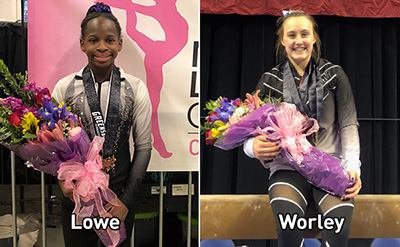 GREENSBORO, N.C., Feb. 28, 2019 – Amber Lowe of Cornelius, N.C./Everest Gymnastics, and Raena Worley of Christiansburg, Va./Virginia Techniques, qualified for the final junior and senior Nastia Liukin Cup berths at the 2019 Greater Greensboro (N.C.) Invitational. The 36-woman field for the 2019 Nastia Liukin Cup is complete. Slated for March 1 at 7 p.m. ET at the Greater Greensboro Coliseum Complex, the Nastia Liukin Cup kicks off the Triple Cup weekend that also includes the American Cup and Elite Team Cup on March 2.
2019 is the 10th annual edition of the Nastia Liukin Cup, which was started in 2010 by 2008 Olympic all-around gold-medalist Nastia Liukin. Twenty states are represented in the field that includes nine gymnasts who have participated in past Nastia Liukin Cups.
Six – Makarri Doggette, Pickerington, Ohio/Buckeye Gymnastics (2013-14, 2016-19).
Four – Kiya Johnson, Coppell, Texas/Texas Dreams (2014-15, 2018-19); Andrea Li, Aurora, Ill./Legacy Elite (2016-19); Cassie Stevens, Phoenix, Ariz./Arizona Sunrays (2015-16, 2017, 2019); and Gabryel Wilson, Ypsilanti, Mich./Olympia Gymnastics Academy (2016-19).
Three – Abbie Thompson, Sanford, Fla./Orlando Metro (2015-16, 2019)
Two – Gabrielle Gladieux, Greensboro, N.C./High Point Gymnastics, Ava Piedrahita, Gaithersburg, Md./Hill's Gymnastics, and Faith Torrez, Kenosha, Wis./Legacy Elite (2018-19).
The complete field is listed below. The 18 junior and 18 senior gymnasts qualified for the Nastia Liukin Cup based on performances at the 18 invitationals in the series. Senior athletes must be 16 years of age or older, and junior athletes must be 15 or younger.
Gymnasts who compete in the Nastia Liukin Cup will receive a Nastia Liukin-designed leotard and a warm-up from GK Elite; two tickets to the Nastia Liukin Cup; and the opportunity to meet Liukin and participate in a team photo.
Single session tickets are on sale for the Nastia Liukin Cup for $39 general admission plus applicable fees. All-session ticket packages, which range in price from $89-$149 plus applicable fees, are still available and include tickets to the Nastia Liukin Cup, American Cup and Elite Team Cup. Ticket prices vary according to seat location.
To purchase tickets, call Ticketmaster's charge-by-phone line at 800-745-3000, or visit ticketmaster.com or the Greensboro Coliseum Complex Box Office. Group tickets may be purchased by calling 336.373.7433. Discounted tickets are available through gymnastics clubs participating in the gym club ticket program.
The Nastia Liukin Cup made its debut in 2010. Past sites include 2018, Hoffman Estates, Ill.; 2016 and 2017, Newark, N.J.; 2015, Arlington, Texas; 2014 and 2019, Greensboro, N.C.; 2013 and 2010, Worcester, Mass.; 2012, New York City; and 2011, Jacksonville, Fla.
Background information
Nastia Liukin. At the 2008 Olympic Games in Beijing, Liukin's total of five medals tied the U.S. gymnastics record for most medals in one Olympic Games. Liukin's Olympic medals are: gold – all-around; silver – team, balance beam and uneven bars; and bronze – floor exercise. Liukin was the third of five U.S. women to win the Olympic all-around crown. She also won nine World medals in her career. Liukin has graced many magazine covers and appeared on various shows, including "Gossip Girl," "Make It or Break It," and the feature film, "Stick It." Liukin was a contestant in the 2015 spring edition of "Dancing with the Stars" and was the grand marshal for the 2015 Indianapolis 500. She currently serves as a gymnastics analyst for NBC Sports and is a founder of Grander, a global community for the next generation of female athletes that provides access to the people who inspire, resources to help achieve dreams, and communities of like-minded people with similar ambitions. Liukin was coached by her father, Valeri, who has four Olympic medals from 1988 including two gold.
Greensboro Area Convention & Visitors Bureau. The Greensboro Area Convention & Visitors Bureau is an independent, non-profit governmental authority whose mission is to aggressively market Greensboro's assets, maximizing economic impact while providing excellent visitor service. Guilford County ranks third in the state in travel and tourism expenditures, with over $1.2 billion generated in 2015 and more than 13,000 people employed in travel-related jobs. For more information: www.visitgreensboronc.com.
Greensboro Coliseum Complex. The Greensboro Coliseum Complex is a multi-building facility designed to serve the citizens of Greensboro and the surrounding area through a broad range of activities, including athletic events, cultural arts, concerts, theater, educational activities, fairs, exhibits, and public and private events of all kinds including conventions, convocations and trade and consumer shows. The Greensboro Coliseum Complex is one of the most actively booked facilities in the country hosting more than 1,100 events on an annual basis. With its incredible versatility, the Complex has gained worldwide acclaim from promoters, producers, event planners and patrons. For more information; www.greensborocoliseum.com.
Sports & Properties, Inc. SPI is a sports marketing and sports development firm concentrating in three primary areas of business: major sponsorships, including naming rights; sports tourism; and major events. SPI recent projects include the Raleigh-Durham market's Major League Soccer Application, the USA Masters Games, greater Asheville sports tourism, and the Seminole County Sports Complex. Event projects include the Africa Youth Games, U.S. Figure Skating Championships, and the American Cup. SPI clients include Capitol Broadcasting Company, the Asheville Buncombe Regional Sports Commission, the North Carolina Football Club, and the Greensboro Coliseum Complex, among others. For more information on SPI, visit sportsproperties.com.
Greensboro Gymnastics Invitational (GGI) – Celebrating its 10th anniversary in 2019, the Greensboro Gymnastics Invitational, hosted by Flip Force Gymnastics, is one of the largest gymnastics events on the East Coast. The event includes competition in men's and women's gymnastics, and power tumbling and trampoline. In 2018, GGI hosted over 3,000 athletes and was a Nastia Liukin Cup senior and junior qualifying event. 2018 was also the inaugural year of the GGI State Men's Team Competition. Held annually at the Greensboro Coliseum Complex in February, GGI is directed by Chris Young (Flip Force Gymnastics), Esau Huang (Flip Force Gymnastics), and Sarah Myers (Flip Force Kidsport Gymnastics). GGI is a sponsor of Big Brothers Big Sisters, raising $25,000 for the local chapter. For more information, go to www.greensborogyminvite.com.
USA Gymnastics. Based in Indianapolis, USA Gymnastics is the national governing body for gymnastics in the United States. The organization is committed to creating a culture that encourages and supports its athletes and focuses on its highest priority, the safety and well-being of the athletes. USA Gymnastics has already taken specific, concrete steps to strengthen its safe sport policies and procedures. The organization's disciplines include men's and women's artistic gymnastics, rhythmic gymnastics, trampoline and tumbling, acrobatic gymnastics and gymnastics for all (formerly known as group gymnastics). For more complete information, log on to usagym.org.
2019 Nastia Liukin Cup field
Listed alphabetical by state
Arizona
Cassie Stevens, Phoenix, Ariz./Arizona Sunrays, senior
California
Jillian Hoffman, Murrieta, Calif./SCEGA, senior
Colorado
CJ Keuneke, Denver, Colo./TIGAR, junior
Delaware
Zoe Middleton, Smyrna, Del./First State Gymnastics, junior
Florida
Hailey John, Sanford, Fla./Orlando Metro, junior
Abbie Thompson, Sanford, Fla./Orlando Metro, senior
Illinois
Sierra Brooks, Plainfield, Ill./Aspire Gymnastics Academy, senior
Andrea Li, Aurora, Ill./Legacy Elite, senior
Iowa
Brooklyn Rowray, Des Moines, Iowa/Chow's Gymnastics, junior
Maryland
Madeleine Johnston, Boyds, Md./HIll's Gymnastics, senior
Ava Piedrahita, Gaithersburg, Md./Hill's Gymnastics, junior
Holly Snyder, Annapolis, Md./Docksiders, junior
Michigan
Gabryel Wilson, Ypsilanti, Mich./Olympia Gymnastics Academy, senior
Minnesota
Mya Hooten, Woodybury, Minn./Classic Gymnastics, senior
North Carolina
Lindsay Bacheler, Raleigh, N.C./Bull City Gymnastics, senior
Gabrielle Gladieux, Greensboro, N.C./High Point Gymnastics, junior
Amber Lowe, Cornelius, N.C./Everest Gymnastics, junior
Hallie Thompson, Waxhaw, N.C./Southeastern Gymnastics Center, senior
New Jersey
Amani Herring, Montclair, N.J./North Stars, junior
New Mexico
Makenna Smith, Albuquerque, N.M./Gold Cup Gymnastics, junior
Ohio
Makarri Doggette, Pickerington, Ohio/Buckeye Gymnastics, senior
Natalie Martin, Westerville, Ohio/Buckeye Gymnastics, junior
South Carolina
Madison Ulrich, Fort Mill, S.C./Southeastern Gymnastics Center, junior
Texas
Lily Bruce, Kingwood, Texas/World Champions Centre, junior
Daisha-Marie Cannon, Spring, Texas/World Champions Centre, junior
Kiya Johnson, Coppell, Texas/Texas Dreams, senior
Carina Jordan, Spring, Texas/World Champions Centre, senior
Zoe Miller, Spring, Texas/World Champions Centre, junior
Frankie Price, Coppell, Texas/Texas Dreams, senior
Utah
Kylie Eaquinto, Orem, Utah/All American Gymnastics – Utah, junior
Sage Thompson, Lehi, Utah/All American Gymnastics – Utah, senior
Virginia
Jamison Sears, Yorktown, Va./World Class Gymnastics, junior
Raena Worley, Christiansburg, Va./Virginia Techniques, senior
Washington
Mackenzie Estep, Auburn, Wash./Auburn Gymnastics Center, junior
Mya Lauzon, Renton, Wash./Metropolitan Gymnastics, senior
Wisconsin
Faith Torrez, Kenosha, Wis./Legacy Elite, senior