All-session tickets on sale for USA Gymnastics' 2022 Winter Cup, presented by OZONE and TURN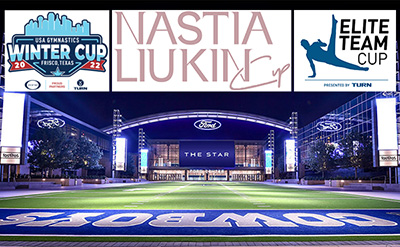 INDIANAPOLIS, January 12, 2022 – Tickets are now available for the 2022 Winter Cup, presented by OZONE and TURN, slated for February 25-27 at Ford Center at the Star in Frisco, Texas. The first elite gymnastics competition of 2022 will include two men's and two women's sessions and is being held in conjunction with the annual Elite Team Cup, presented by TURN, and Nastia Liukin Cup, which feature some of the top USA Gymnastics Men's and Women's Artistic Development Program athletes from across the country.
Tickets may be purchased through SeatGeek. All-session ticket packages range in price from $119 to $149, plus applicable fees, with prices varying by seat location. All-session tickets provide access to all Winter Cup sessions as well as the accompanying Elite Team Cup and Nastia Liukin Cup competitions. The event schedule, which is subject to change, is listed below in central time.
Friday, February 25
Nastia Liukin Cup, 1:30 p.m.
Winter Cup Men's Day 1, 6:30 p.m.
Saturday, February 26
Winter Cup Senior Women, noon
Elite Team Cup, 5:30 p.m.
Sunday, February 27
Winter Cup Junior Women, noon
Winter Cup Men's Day 2, 5:30 p.m.
The 2022 Winter Cup, presented by OZONE and TURN, will be the first opportunity for gymnasts with eyes set on the 2024 Paris Olympic Games to compete on the national stage under the new International Gymnastics Federation Code of Points. In 2021, Olympian Jordan Chiles of Vancouver, Wash./World Champions Centre dominated the women's senior all-around competition, while Olympic alternate Cameron Bock of Tustin, Calif./University of Michigan took the men's all-around crown. Alicia Zhou of San Antonio, Texas/Love Gymnastics and Leah Smith of Spring, Texas/World Champions Centre claimed the junior and senior Nastia Liukin Cup titles, while athletes from Region 3 once again topped the Elite Team Cup field, capturing their sixth win in as many years.
About The Star
The Star is the 91-acre campus of the Dallas Cowboys World Headquarters and training facility in Frisco, Texas. Developed as a first-of-its-kind partnership between the City of Frisco, Frisco ISD and the Dallas Cowboys, The Star features Ford Center, a 12,000-seat stadium that hosts Frisco ISD football games, concerts and other events; Cowboys Fit, a 60,000 square-foot gym developed in partnership with leading fitness developer, Mark Mastrov; Cowboys Club, a members-only club where the country club meets the NFL; the Omni Frisco Hotel, a 16-floor, 300-room luxury hotel; Baylor Scott & White Sports Therapy & Research at The Star, a 300,000 square-foot center of excellence for sports medicine; Twelve Cowboys Way, a 17-story, luxury residential tower in partnership between Pro Football Hall-of-Fame Quarterback #12 Roger Staubach, and Dallas-based developer and former Dallas Cowboys center, Robert Shaw; Formation, a dynamic coworking experience offering a collaborative work environment of open workspace, dedicated desks and private offices; as well as a variety of shopping, dining and nightlife options throughout The Star District. For more information on The Star, visit www.TheStarInFrisco.com.
About USA Gymnastics
Based in Indianapolis, USA Gymnastics is the national governing body for gymnastics in the United States, overseeing six disciplines: acrobatic, artistic, gymnastics for all, parkour, rhythmic, and trampoline and tumbling. A member of the U.S. Olympic and Paralympic Committee and International Gymnastics Federation, the organization serves more than 200,000 members, including athletes from the beginner to elite levels, parents, coaches, clubs and club owners, and supports the U.S. teams for the Olympic Games, World Championships, and other top-tier international events. USA Gymnastics is committed to delivering top-quality education, actively growing the sport across all levels and disciplines, and providing safe, positive and empowering experiences for all participants. For more on USA Gymnastics, visit www.usagym.org.