Another six gymnasts qualify for 2022 Nastia Liukin Cup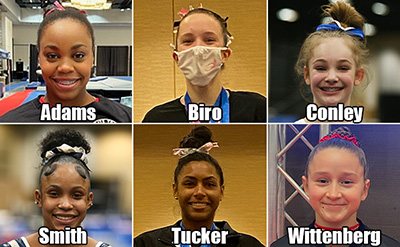 INDIANAPOLIS, January 24, 2022 – Six more gymnasts have claimed their spots in the 2022 Nastia Liukin Cup, set to take place February 25 at Ford Center at the Star in Frisco, Texas. In all, the competition, which will air live on the Olympic Channel, will feature 20 junior and 20 senior USA Gymnastics Women's Development Program Level 10 athletes determined through a series of invitationals held in the preceding weeks.
This week's qualifiers are listed below alphabetically by competition. Click on the event for junior and senior results.
Circle of Stars, Indianapolis, Ind.: Isabel Biro, Cincinnati, Ohio/Queen City (junior); Makayla Tucker, Fishers, Ind./Deveau's (senior)
Houston National Invitational, Galveston, Texas: Nailah Adams, Missouri City, Texas/Pearland Elite (senior); Halle Wittenberg, Kingwood, Texas/World Champions Centre (junior)
UGA Invitational, Tinley Park, Ill.: Clancy Conley, Carol Stream, Ill./Legacy Elite (junior); Nikki Smith, West Bloomfield, Mich./EuroStars (senior)
Four more athletes will secure their places at next weekend's Atlanta Centennial Classic in Atlanta, Ga., and Alamo Classic in San Antonio, Texas.
The Nastia Liukin Cup was founded in 2008 by 14-time Olympic and World medalist Nastia Liukin and is in its 13th year.